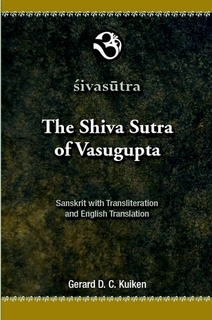 The Shiva Sutra of Vasugupta
Description
The Shiva Sutra was revealed to and written down by Vasugupta (ca 875–925 CE). The Sutra is considered mystical and of divine origin. For Kashmir Shaivism, it is one of the most important key sources. It outlines the teachings of Shaiva non-dualism, where the focus is on attaining the Ultimate Reality in which everything is created and dissolved. This ultimate state is called Param Shiva and is beyond description. For attaining this state of Shiva for those who remember to reside in their own inherent-self-nature, which is of the nature of Shiva, no effort or no way is needed. For everyone else there are three ways for the attainment of Param Shiva described in the Shiva Sutra. There is no strict order given for meditating on the Sutra. It depends on one's stage of evolution. May this new translation contribute to the appreciation of the Shiva Sutra and deepen your meditation.
Contents
The Shiva Sutra in Sanskrit and English
The Shiva Sutra in English
Praise for the translation
Commendable work. Glad to see a translation devoid of interpretations." Ganesh for Shaivam.org, India, July 2017.
Free download
A free download of the Shiva Sutra is available under the heading 'publications' in the English section of 'Downloads' in English and Sanskrit, and by following the link: Shaivism.org.