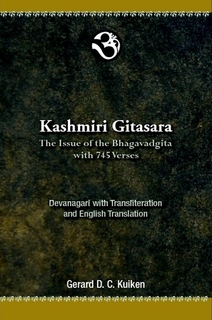 Kashmiri Gitasara
Description
The traditional number of verses of the Gita is defined by the teacher Sankara (788-820 CE) as being 700. However, a number of 745 verses results from the Gitamana, an inserted stanza that gives the number of verses spoken by each speaker in the Gita. The Gitamana is found mostly in Kashmirian versions of the Mahabharata, inserted directly after the Bhagavadgita, and is not found in Bengali and southern recensions. The Gitamana is placed just before the 51 verses of the Gitasara, which is the summary of the Gita. Adding the Gitasara to the Bhagavadgita extends the Bhagavadgita, and can be made to comply with the specifications given in the Gitamana. Perhaps this is the first translation into English of the Gitasara, revealing thoughts not found in the Gita and worth meditating on, even the passages that are difficult.
Contents
Introductory remarks
Gitamana in Sanskrit and English
Gitasara in Sanskrit and English
Gitasara in English
Bibliography
Praise for the translation
This is truly remarkable!" Christopher Chapple, Doshi Professor of Indic and Comparative Theology, Loyola Marymount University, Los Angeles, USA
Free download
A free download of the Kasmiri Gitasara is available under the heading "publications" in the English section of "Downloads." in English and Sanskrit.